Carolina Mountain Trout with White Wine Brown Sauce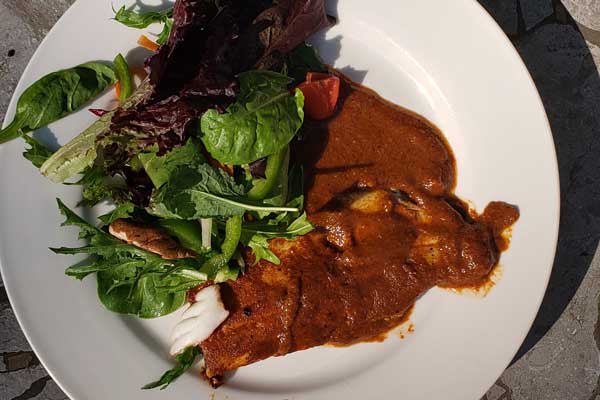 A few months back, in cooler spring weather, I spent a long weekend camping and fishing in the mountains near the Chattooga River, bordering SC and GA with a few friends. Upon arrival, we set up camp, looked over maps of prospective mountain streams, and talked by the campfire about the possible entry points to the river for our outing the next morning.


After breakfast the next morning, we stopped at Chattooga River Fly Shop for the scoop on which flies were hatching on the river and to select handcrafted imitations that would make our slight of hand with string and rod complete.


Standing in a cool mountain stream, casting into the rushing waters of a narrow upstream section, watching the little yellow fly float the rapids past green mossy river stones on its slowing travel to deeper pools under oaks and pines was a soothing meditation.

We caught several fish over our days hiking creeks and wading into streams, mostly catch and release with photos and memories as our trophies for the ride home.

Lately, though, my thoughts of Carolina Mountain Trout with a wonder of what flavors they may hold brought me to one of my local fishmongers, Carolina Fish Market, owned by Jim Sidel, for some amazingly fresh free-range NC Mountain Trout. They wrapped my scaled, boned, super fresh trout in brown paper ready for seasoning and cooking.

Serves 6
Prep time 10 minutes
Cook time 12 minutes
Smoky simmer, uncovered, 10 minutes
__________

3 fresh Carolina mountain trout (6 fillets)
3 tomatoes
3 garlic cloves
3 fried pork skins (Lower carb instead of a slice of toast)
12 almonds
1 1/2 tablespoons Fire of Coals Low Country BBQ Rub
(a sugar-free version is coming to the web store soon)
1 teaspoon white wine vinegar
3/4 Cup of Carolina White Wine, Sauvignon Blanc
1 tablespoon of olive oil
Use wood chips if using a gas grill


1. Slice the tomatoes in half and place in a dish with the garlic cloves and almonds.
2. Season the inside of the fish with 1/2 tablespoon of the BBQ Rub seasoning and place back on wrapping paper or in a dish.

3. Fire a hot bed of coals or turn the grill on to high.
4. Place a cast-iron skillet on the grill.
5. Place halved tomatoes face down to sear in the skillet with the garlic cloves and almonds to toast.
6. Move the contents of the skillet, the tomatoes, garlic, and almonds to the blender, and add the remaining BBQ seasoning, pork skins, and the white wine.
7. Coat the bottom of the skillet with olive oil and place the seasoned fish in with the skin side up to sear about five minutes on each side.
8. While the fish is searing, turn the blender on high for about 2 minutes to make the brown white wine sauce.
9. After the fish has cooked, pour on the sauce, close the lid and let simmer in the smoke with the grill lid closed for another 10 minutes.

10. Serve with the salad or side of your choice.
__________
 Cooking down garden fresh tomatoes on cast iron with garlic comes from memories of my Grandmother's kitchen. But, the almonds and white wine are from culinary writer Patience Gray's travel/cookbook, Honey from a Weed.  
Leave a comment
Comments will be approved before showing up.